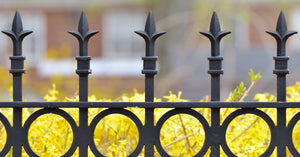 Incorporating Art Into Your Yard
It seems almost like common sense to have art on the walls of your home. However, having art outside is not always as simple for people. There is no reason not to incorporate art into your yard and your landscaping, but some people do not know how. We have a few simple ideas that may be able to help add those visual pieces that can take an incomplete landscape and turn it into something genuinely polished and beautiful. 
Privacy Screen
Almost everyone has that one angle in their yard where you have to block out the neighbors, or the trash cans or some other unsightly thing. Instead of trying to distract yourself from these areas and keep guests from turning their heads, why not put in some metal privacy screens. The art will last for many years as it is designed to withstand weather conditions. You can do something with a pattern that matches your home or something completely abstract as well. These privacy screens can be put together to create a privacy wall, or you can break things up a little and do a plant on either side of the screen. 
Wall Art
The walls, especially in the back of your home, are probably quite bare. Of course, you will have your windows and your doors, but there are certainly going to be some gaps in just large spaces. Many people notice this, especially on the outside of their garage. Chances are the back of the garage faces the back yard, and there is usually no window. This is a perfect location to hang a piece of outdoor wall art. 
You can go with something custom that matches a hobby or story of your family. Or choose something abstract that takes the attention away from the vast and barren garage wall. Combining something like this with low-level plants is going to be a much-improved look for your yard. 
Landscape Gaps
Do you have some barren areas in your landscaping? If you have looked at the price of large full-grown plants, you may have decided to live with the gaps. However, there is an alternative. You can take some outdoor metal art and fill in the gaps. The art can be mounted in a variety of ways and at several different heights as well. When looking into the garden and seeing the plants and flowers, it can be beneficial to have something that stands out as a bit different to the eye. The metal art can match the design of the landscaping and types of flowers, or it can stand out as something unique. 
There are two essential things to remember about outdoor and backyard art. The first is that you must make sure you are using the proper materials. If your art cannot hold up to the elements, it is not going to last long term. Secondly, you need to think outside the box and feel as though you are decorating your yard like you would decorate your home. Afterall your yard should be an extension of your living space.
---