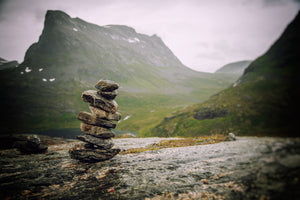 Your Outdoor Shrine: Exterior Design Ideas
At Coastal Metal Art and Design, we are helping our customers to change how they think about exterior design.
Have you ever heard of a cairn of stones?
You might hear about it in the Celtic songs that play on your Pandora station. You might read about it in a book about ancient England.
But unless you really think about it, you might not see how it relates to our own modern cultures and principles of design.
The cairn of stones was a shrine of sorts, a physical symbol of beliefs and behaviors that persisted throughout generations. It was a physical thing that you would see on the landscape – people would come across it and notice it as a landmark.
The idea of a "cairn" or outdoor shrine is now somewhat esoteric. People are more likely to create practical outdoor installations like pools and grilling stations. But whether you pair it with a porch or patio, or set it up in your own little woods, outdoor shrines can be a great way to dress up a property and even provide for some surprising variety of functional uses. In a way, these types of installations tie us back to the traditions of our ancestors, too – and sometimes they result in more of us spending more time outside!
Our metal frame elements are great for this kind of exterior decoration and design. You can set up one vertically, or set several of them up in a semicircle, or arrange them however you like. You can clear a horizontal space around them or between them and make a perfect place for yoga or meditation. You don't need a whole lot – just some of these excellent geometric or nature-based designs that we cut with our machinery here in the shop. We have the neat floral and geometric shapes that can make your exterior designs pop, and make your outdoor areas more attractive to visitors or anyone else.
Right now, you can take advantage of our winter sale, or PayPal financing, and get these exquisite designs delivered right to your door. Check out our FAQ to learn more about how this works, and don't hesitate to contact us with any questions. On the site, you'll see gallery pictures of our frames adorning flowerbeds, statuaries, or outdoor spaces, and you can be inspired about what your property can look like, with just a small aesthetic improvement. It's amazing what a difference a small thing like this can make!
---