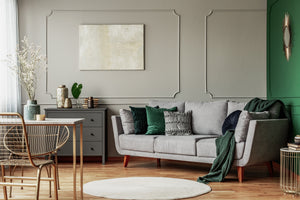 Decorator Secrets For A Polished Interior Design
Whether you are starting from scratch in a new home or ready to upgrade your home's interior, coming up with a plan can be overwhelming. With all of the different styles of furnishings and design, choosing what works within our budget can be difficult. When planning your new home's interior or freshening up your current interior design, focusing on a few key elements can transform your room without breaking the bank. 
To help you make the best decisions on your home's decor, we're spilling some interior decorator secrets for a polished interior design. 
Add A Personal Touch
An inviting home is created when you add your personal touch to its decor. Your personal touch can elevate an otherwise drab and basic room to one that is memorable. Tell your story in any way that you choose, but make it your own. If you love the western style, create vignettes around your favorite artwork or furnishings to showcase that flare. 
Maybe you have collections that can be made prominent pieces of your decor that reflect your interests. Whatever is unique to you, make it stand out in your home, and it will be indeed one of a kind. 
Showcase A Star Piece
When building a room's style, focus your efforts on a star piece to showcase. An accent wall or space above a fireplace can be just the spot for a beautiful hand-crafted metal screen. Think of large artwork or furnishings that can be stand-alone focal points for a room, such as an antique wardrobe or an extravagant chandelier. 
Interior decorators build rooms around centerpieces of interest as ways to add drama without overspending. One or two high-quality pieces can create a high design feel effortless. 
Work With Your Surroundings
One of the most straightforward techniques for beautiful interior designs is to use your surroundings to determine the course for your home's style. Different regions, localities, and states all boast their styles and cultures. Coastal design differs from mountain regions, and your home's design should be compatible with its surroundings. 
Design compatibility doesn't necessarily mean your interior spaces have to reflect a literal interpretation of your region. For example, if you live in a coastal area, your design doesn't have to be 'beachy' to be compatible; you can consider the color pallet of your surroundings and build on those hues. 
Final Thoughts
When designing your home's interior spaces, adding your personal touch, highlighting a focal point of interest, and creating compatibility with your surroundings are all ways of achieving a designer feel without the designer cost. 
---