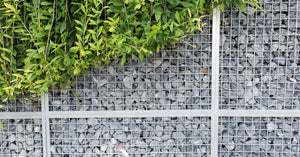 Simple Ideas That Add Flare And Function To Your Outdoor Spaces
Now that it is Spring, and we are looking forward to enjoying the warmer months ahead, it's the perfect time to spruce up your outdoor spaces. Many of us enjoy spending time in our gardens, decks, patios, and other areas that we create in which to relax and entertain. Finding interesting ways to add to these spaces to enhance our enjoyment of them can mean anything from beginning an upcycling project to adding functional yard sculptures. 
Upcycling Creatively 
Upcycling has become a popular term for changing an object's intended purpose into something totally different. For outdoors, this can mean a variety of projects that will add flare to your yards and gardens. Making birdbaths by attaching platters and bowls to large vases can bring a unique style to your landscape. In colors and materials that are uniquely your style, you can create a haven for your songbirds. 
The Power Of Pebbles 
If hand made crafts aren't in your wheelhouse, but you'd like to bring something new this year to your landscape design, create depth and design in your garden by adding pebbled paths and stone walkways. These stone paths don't have to be extensive or expensive. Think critically about areas outside that you can create focal points, or vignettes, where you can use natural stone materials to enhance the setting and draw interest. 
Defining Space With Functional Metal Artwork
If you wish to define these spaces or create added privacy for areas you spend time in the most, consider using metal privacy screens. Coastal Metal Art & Design creates plasma forged metal screens that are the epitome of functional art. These pieces combine beautifully crafted designs with sturdy privacy and boundary setting capabilities. 
Perfect for any outdoor space, these metal screens will become a focal point of your most loved outdoor spaces. They can be used solely for privacy on your patio or courtyard, or as art pieces within your garden and landscape. You may love your screen so much that you decide to add more Coastal Metal Art & Design pieces to your exterior or interior design.
Designate Your Area With An Outdoor Rug
Another space-defining element that can easily dress up any outdoor space is a fun outdoor rug. Outdoor rugs, designed and made explicitly from materials meant to withstand harsh elements such as rain and sunlight, come in all sorts of colors and patterns that will create a colorful focal point for your area. Offered in a variety of sizes, these rugs are a popular and easy way to get ready for summer entertaining. 
Bring New Life To Your Outdoor Areas
Adding new pieces to your outdoor spaces can create flare as well as functional. Consider the exterior areas of your home and property just as important as the interior in order to create inviting spaces that bring you joy, inside and out.
---